Youth Volunteers
If you are interested in any of the following, this volunteer opportunity may be great for you!
Legal system
Working with your peers to solve conflicts
Public speaking, debate, mock trials, etc.
Giving back to your community
Restorative Justice
Public service hours for school
Meeting other students and connecting with adult mentors
What does a youth volunteer do?
Youth volunteers participate in Peer Panels where they question and deliberate on meaningful consequences for their peers who obtain a criminal offense in Lone Tree. The volunteers must participate in General Legal Training and take an Oath of Confidentiality to serve on a Peer Panel. The volunteers consider the perspectives of the victim and the community to help the youth respondent make things right through Teen Court.
Who can volunteer?
Lone Tree Teen Court accepts youth volunteer applications on an on-going basis. Youth applicants must be age 12 through 18 years old. No experience is required to volunteer.
How often and when do I volunteer?
We are currently operating Teen Court Peer Panels in person. However, if necessary, Teen Court can still offer virtual Peer Panels. 
Teen Court Peer Panels are scheduled according to flow of cases from Municipal Court. Most volunteers participate on Peer Panels 1 – 3 times per month. Each Peer Panel is 1.5 – 2 hours of volunteering. You can volunteer according to your schedule. Volunteers can also participate in volunteer fun events, educational field trips, and advanced training.
How do I sign-up?
1. Contact the Teen Court Coordinator via email or at 720-509-1265.
2. Fill out and return the Volunteer Application.
3. Complete General Legal Training (GLT) – learn more about GLT below
4. Observe Teen Court in action!
What is General Legal Training (GLT)?
All new volunteers are required to complete General Legal Training (GLT) before they participate on Teen Court Peer Panels. GLT provides the knowledge and skills needed to be a Teen Court volunteer. The course covers concepts relating to the court system, restorative justice, professionalism, questioning and deliberations. GLT is held 3 times per year.
The next General Legal Training will be held on April 1, 2023. If you are interested in attending, please sign-up on the form below.
Volunteer Activities
The City of Lone Tree Teen Court is extremely proud of our volunteers and the community they have built around the program. Here are some volunteer activities and appreciation events that Teen Court has offered in the past several years to teen and adult volunteers.
CU Boulder Mini Law School
Volunteering on mock panels for General Legal Training (GLT)
Book Club partnership with the Living and Aging Well Committee
Think Like a Genius Challenge®
Arbor Day
Teen Rights Day
Colorado Teen Court Association Mock Panel/Trial competition
Pen-Pal Partnership with the library
Law School 101 events
Presentations to City Council
National Association of Community and Restorative Justice (NACRJ) Conference
Awards and Social Events
Awards Night Dinner
Annual Teen Court Dinner and Training
Ice cream summer social
Field trip to the Colorado Judicial Learning Center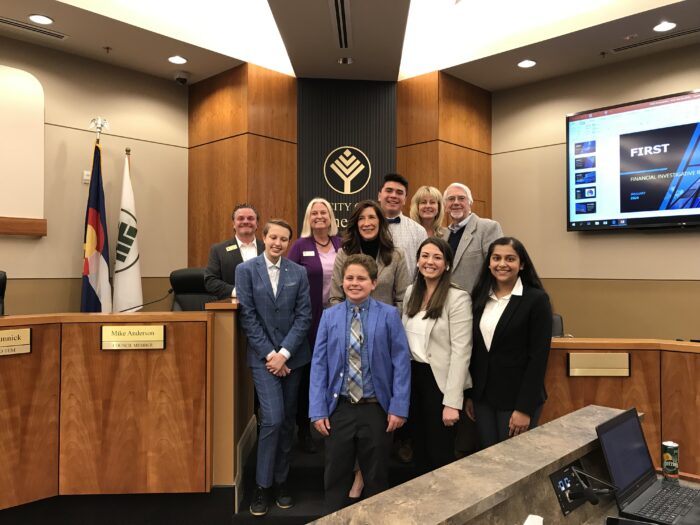 Adult Volunteers
We are always looking for committed and professional adult volunteers to help with Peer Panels, community service, and training. Adult volunteers must go through Teen Court Adult Volunteer Training.
What does an Adult Volunteer do?
Peer Panel Adult Volunteers help provide support to the youth volunteers during questioning and deliberations. Peer Panels are Teen Court's version of a hearing and are held on Monday evenings. Volunteers can expect 1.5-3 hour time commitment and are encouraged to participate in 2 Peer Panels per month. Peer Panel Adult Volunteers will be trained on Teen Court procedures, restorative justice, and Peer Panel management.
We also need adult volunteers to assist with youth volunteer training, mentoring respondents with sentencing requirements, and with community service projects.
How do I sign-up?
If you are interested in a volunteer position, please contact the Teen Court Coordinator via email or at 720-509-1265.
All adult volunteers must complete an application and successfully pass a background check before joining. Please review and fill out the application. After an application is processed, prospective volunteers will complete an orientation and observation of Teen Court in action. 

Please send your completed applications to [email protected].
Lone Tree Student Leadership Board (SLB)
Lone Tree Teen Court started its first SLB as a leadership opportunity for youth volunteers in 2018. The SLB is a group of Teen Court youth volunteers interested in developing their leadership skills by:
working collaboratively to advise Teen Court
planning volunteer events
reviewing the Teen Court & brainstorm ideas for Peer Panels/sentencing
obtaining volunteer feedback
recognizing their peers for exceptional work
participating in leadership building activities
What is required to be on the SLB?
You must be a registered and trained Teen Court volunteer.
You must commit to the one year of SLB meetings, which occur the 1st and 3rd Tuesday of each month.
How do I apply?
Applications for the 2024-2025 Student Leadership Board will posted on this page in Spring, 2024.
Learn more about SLB! This video was edited, written, and produced by the Student Leadership Board.
Questions about volunteering with teen court?